Role Model Interaction
Role Models interactions are an excellent mechanism to nurture and inspire the girl scholars to pursue a career in STEM. The resource persons invited include scientists, technocrats, engineers, doctors, faculty in STEM, and other STEM professionals. They play a tremendous role in instilling confidence and motivation in scholars. The events are organised both centrally from NVS Headquarters and by individual Knowledge Centres. A lecture series with eminent scientists of India called "Interaction with India's Science Geniuses" was started centrally in Vigyan Jyoti Phase-III in December 2022 and is being continued in Phase-IV. The series is based on the selected 10 scientists featured in the book "India's Science Geniuses" by Dr. Archana Sharma, Principal Staff Scientist, CERN. This series is aimed at generating career awareness pertaining to STEM pathways and work undertaken in STEM fields by the scientists. Dr. Archana Sharma (CERN, Geneva), Dr. C.M. Reddy (IISER Kolkata), Dr. Sandhya Koushika (TIFR Mumbai), Prof. Annapurni Subramaniam (IIA Bangalore) have interacted with the scholars.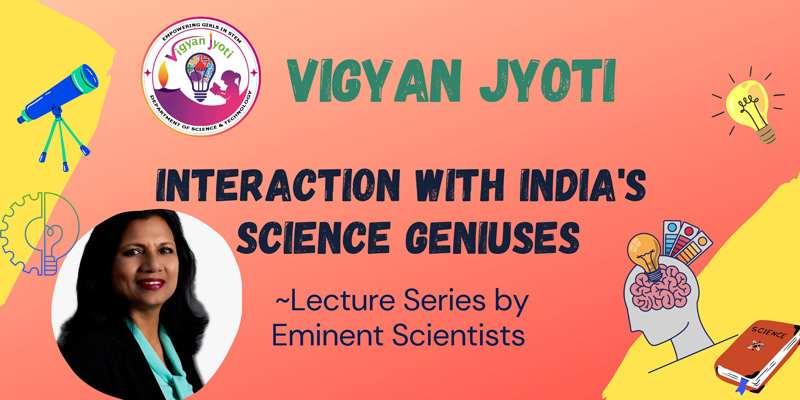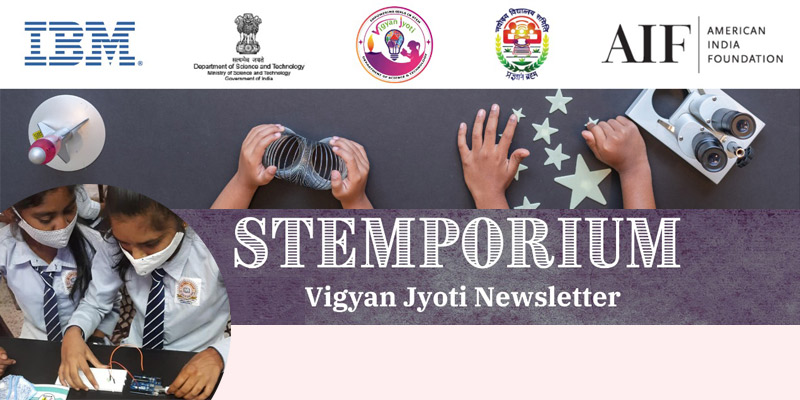 STEMPORIUM: Vigyan Jyoti E-Newsletter
Vigyan Jyoti e-newsletter was initiated with the objective to highlight the work of the Vigyan Jyoti Programme in promoting STEM education among the JNV girl students across the country. STEMPORIUM is an effective tool of communication for all the stakeholders of Vigyan Jyoti Program - Department of Science and Technology, GOI; Navodaya Leadership Institute; Jawahar Navodaya Vidyalayas under Vigyan Jyoti Program; IBM-India; teachers and Vigyan Jyoti Scholars, to keep them updated about the activities being implemented under Vigyan Jyoti. It also serves as a medium of 'edutainment' for the students to enhance their general knowledge in the field of STEM in a fun way. STEMPORIUM is published on a quarterly basis.
Newsletter Issue-1 Newsletter Issue-2 Newsletter Issue-3 Newsletter Issue-4
C-STEM Sessions Term-II
The Curriculum based STEM (C-STEM) program is a long term intervention for Class IX–X Vigyan Jyoti scholars which has recently started in 2021-22 with the support of IBM India. The C-STEM sessions are conducted in collaboration with ScienceUtsav, Bangalore and are designed to make science fun for students. They comprise year-round workshops on the important topics of the Class X Science Curriculum and are filled with hands-on activities, fun experiments, games and discussions. In these workshops, students also make models and simple prototypes with easily available materials. Other activities include the use of concept maps, card games, higher-order thinking worksheets, quizzes, etc. The experiential learning is highly beneficial for the girls for the development of critical thinking, design thinking and problem solving skills. The scholars are given a quiz after each session to strengthen their learning.
For more details click here.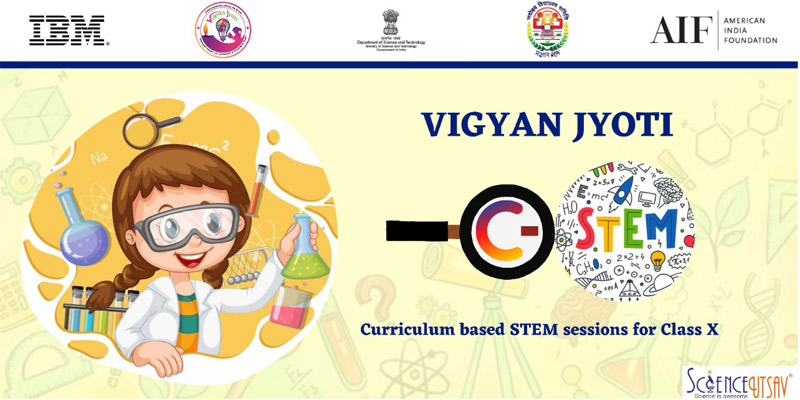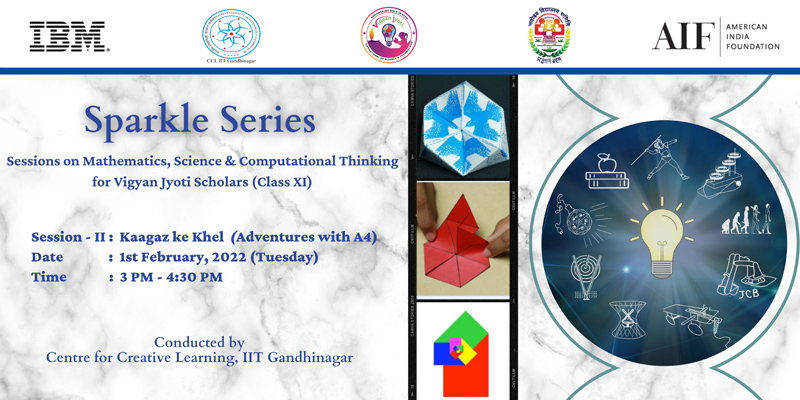 Sparkle Series
In a focused effort to get young higher secondary girl students from the remotest parts of the country excited about STEM, AIF in collaboration with IBM India and the Centre for Creative Learning at the Indian Institute of Technology Gandhinagar (IIT-GN) started the 'Sparkle Series' under the Vigyan Jyoti Program on January 22, 2022. Sparkle Series is an online interactive education program covering topics from Science, Math, and Computational Thinking and designed for the Vigyan Jyoti scholars of Class 11 from all the Knowledge Centres.
For more details click here.
Tinkering Workshop
To foster curiosity, creativity, and imagination in young minds, tinkering workshops are conducted by knowledge centres using basic electronic components, basic circuits, Arduino, sensors and actuators, Artificial Intelligence & Coding, 3D printing and much more. In Phase-III, an 18-hour online ATL workshop was also conducted for JNV teachers, which was spread across 6 days to help teachers make optimal use of the available ATL resources. Six workshops were conducted region-wise in collaboration with Vikram A Sarabhai Community Science Centre during January-April 2022. After the successful completion of the workshop, a series of post-workshop engagement activities for the teachers was conducted to facilitate the teachers with sustained hand-holding support to make the ATLs fully functional. As part of this, teachers built working prototypes using ATL resources with the help of students. Master trainers were selected based on their submissions and were provided with an advanced training on ATL equipping them to train other JNV teachers.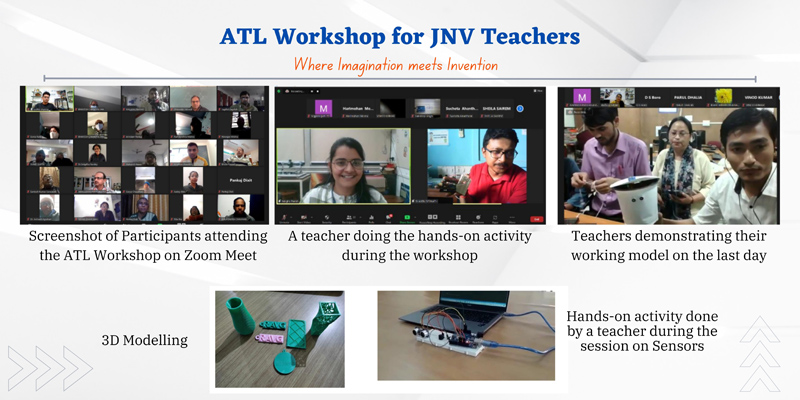 Aspiring Scholars: NTSE Session
To give the students of JNVs an extra edge in the NTSE competition, these special series of sessions were organised with the resource persons from Swami Vivekananda Youth Movement. The sessions helped the Vigyan Jyoti scholars in building a strong foundation in Science, Mathematics and Mental Aptitude fields. The program was accomplished in two phases – preparatory phase and focussed phase.
For more details click here.
PyCode Series
PyCode Sessions is a series of online classes which are conducted for Vigyan Jyoti scholars of Class X to provide them with exposure to python language, which will help them in developing the key 21st-century skills like logical thinking, creativity, computational thinking, critical thinking, and problem solving. The sessions were started from March 2022 and were concluded in December 2022 for the first batch. Each session is for approximately 60 minutes, followed by quizzes and assignments, which students can attempt at their chosen time.
For more details click here.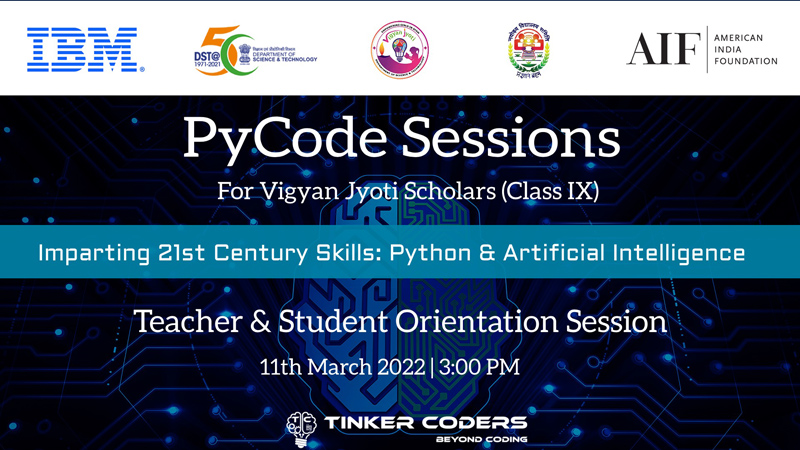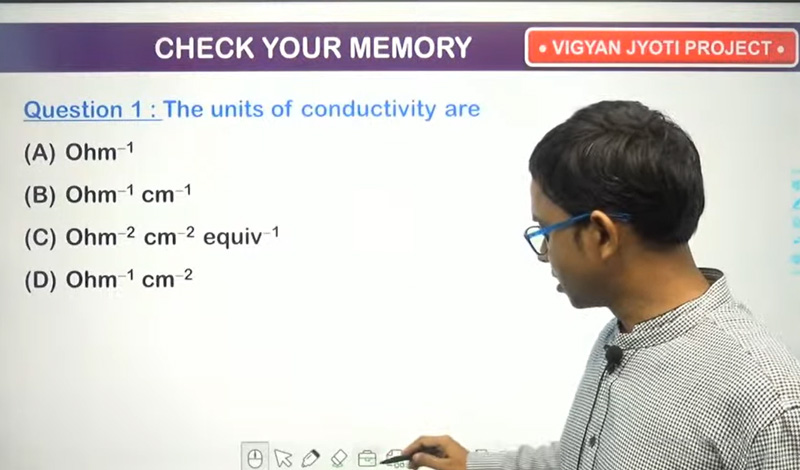 Special Classes
Special Online Classes under Vigyan Jyoti is the most important intervention to build capacity in the enrolled girls to face competitive examinations. These classes provide additional academic support and aid students in concept clarity, thereby enhancing their academic competence. Along with classes, Mock Tests are also conducted for Vigyan Jyoti Scholars from time to time.
Flipbook
A Flipbook on 'Science & Mathematics Projects' has been compiled for Vigyan Jyoti Scholars to understand scientific principles through experiential learning. Projects in this book will not only help students in improving their problem-solving skills and critical thinking abilities but also aid them in learning the concepts in a better way. This Flip Book will add pleasure to their academic journey through the exciting field of Science and Mathematics.
For more details click here.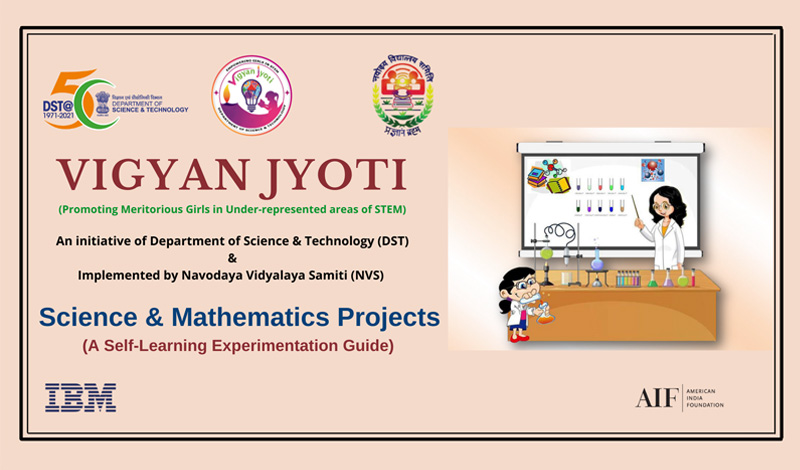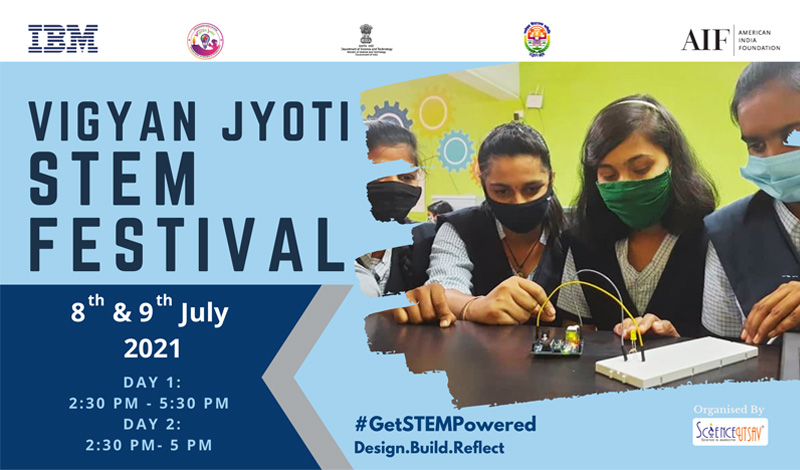 Science Camp
Science Camp is a virtual festival for Vigyan Jyoti Scholars of Class X. Science Camp is a 2 day event on STEM pedagogy which meant to inculcate learning styles among students from day-to-day observations. Science Camp activities include aerodynamics show, hands-on science workshop, online fun games, fun math workshop, online science quiz, fun Science experiments, Math in day-to-day life, talk by an eminent Scientist, technology-based workshop on futuristic skills for students, and sessions on STEM Careers.
For more details click here.
Cyber security awareness program
Region-wise 'Cyber Security Awareness Programs' were organized in collaboration with IBM to educate the Vigyan Jyoti Scholars about the risks associated with being active in cyberspace. The interactive webinars were intended to apprise the students about issues such as cyber-bullying, cyber-threats, breach of privacy, phishing, etc.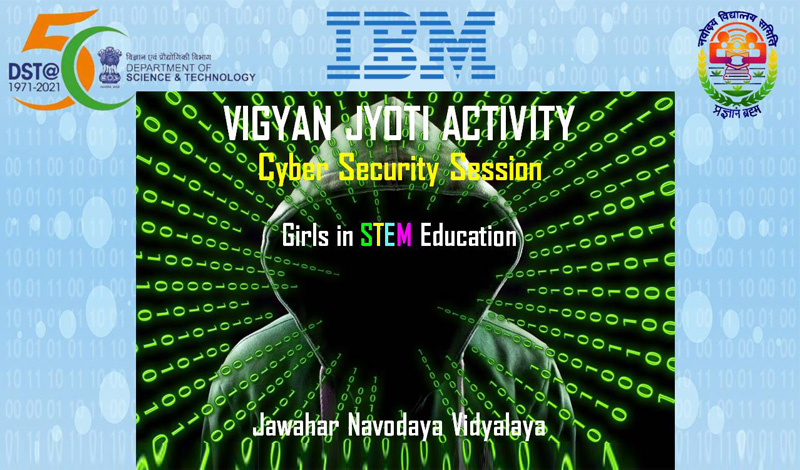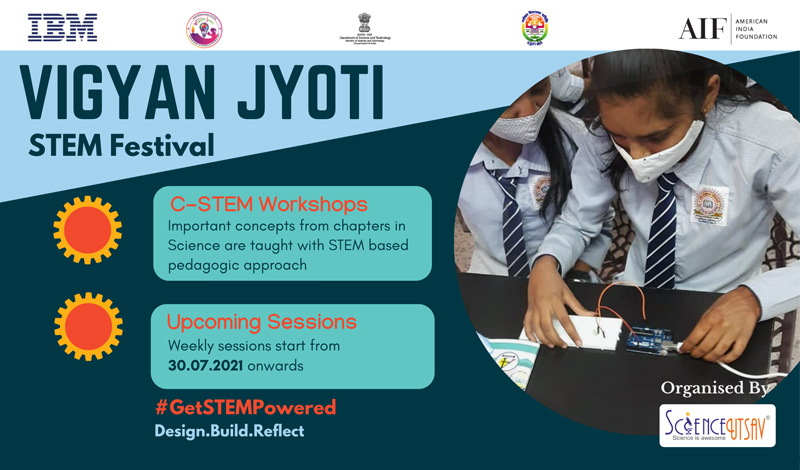 C-STEM Program
The Curriculum based STEM (C-STEM) program is a long term intervention for Class IX–X Vigyan Jyoti scholars which has recently started in 2021-22 with the support of IBM India. C-STEM comprises year-round workshops on the important topics of the Class X Science Curriculum. In these workshops, students are developing simple prototypes with easily available materials. Other activities include the use of concept maps, card games, higher-order thinking worksheets, quizzes, etc. These fun based methodologies are promoting the effective learning of Science and Math concepts and ameliorating any persistent learning gaps among the scholars. The C-STEM is focused on improvement in the thinking, designing and problem solving skills of the students through a practical learning approach.
Workshops for teachers
Workshops on STEM teaching pedagogy are being conducted for Science & Mathematics Teachers associated with Vigyan Jyoti Programme with an aim to enhance capacity building. These workshops are reskilling teachers about creative learning techniques in order to motivate and prepare students for competitive exams. Till now, 4 such workshops have been organized under Vigyan Jyoti through AIF, IBM, and IIT Gandhinagar.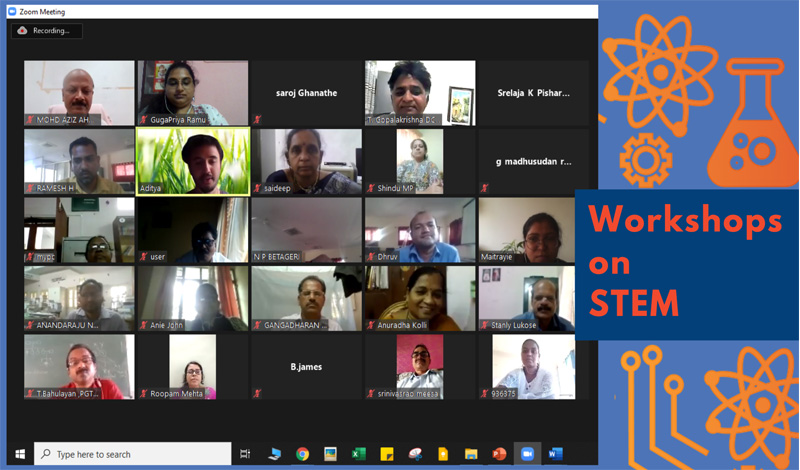 Visitor :